Details
Looking for beautifully handcrafted pottery dishes for your home? Can't decide what color you like best? No problem! This set of handcrafted pottery dinnerware plates is for you.
View all dinner plates.
Material: Ceramic/ Porcelain
Shape: Round, stone grain straw hat plate
Package: Plate x1
Color: White
Size: 9.64 inches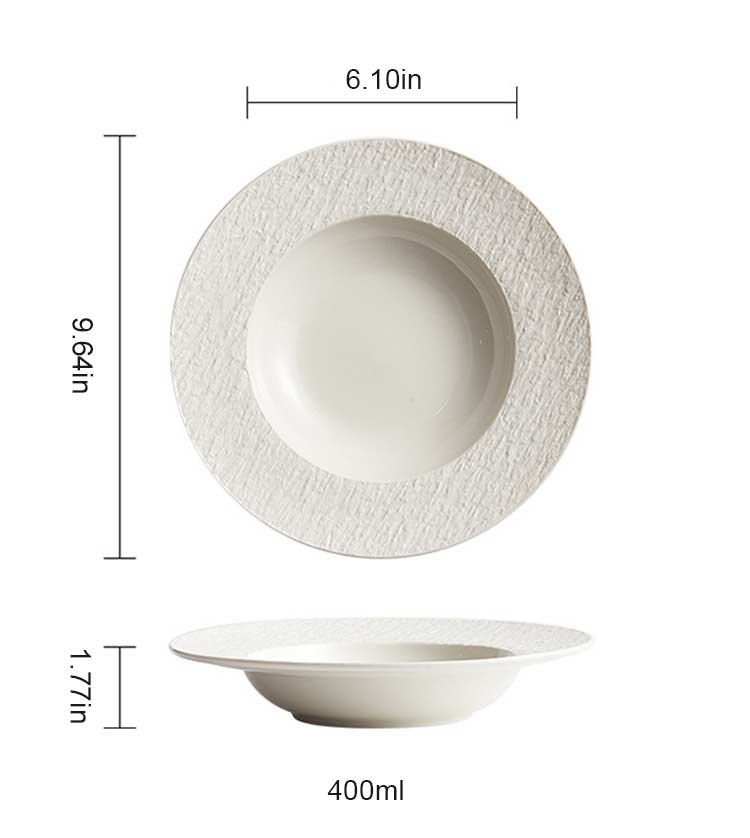 Highlights
Looking for an organic dinnerware set?
Petra plates honor natural objects. Greek means "rock" The disc's surface is textured like slate, and the unglazed porcelain clay is burned at 1300 degrees to create a rough, original texture. The inside of the plate is bright glaze, which has a delicate shine and is easy to clean.
New Bone China, tough & durable, suitable for oven, dishwasher, refrigerator and microwave oven.
More dinnerware set in ShapifyX. Contact us for the full range, or try our customized service.
Return Options
We sincerely hope that you to be delighted with your purchase. If there is an issue with your order, contact us via phone or email within three (3) days of receipt and we'll make it right.
Warranty
Every ShapifyX product is backed with a warranty. From design to manufacturing, delivery to service, ShapifyX is committed to quality.
Note
Errors in manual measurement.
You may handle it with care to prevent it from breaking as it is a fragile item.
We highly recommend cleaning it only with a soft cloth or sponge for long-term use.
The measurement is taken manually, sizes are for reference only.
It is normal if the colors are slightly different as it's a handmade ceramic product.
ShapifyX hopes you enjoy the shopping experience with us!