Details
Characteristics: Silver Coated
Material: Crude Pottery / 925 Siver
Package: Plate x1
Color: Silver
Style: Straight edge I Broad-rimmed/ Lace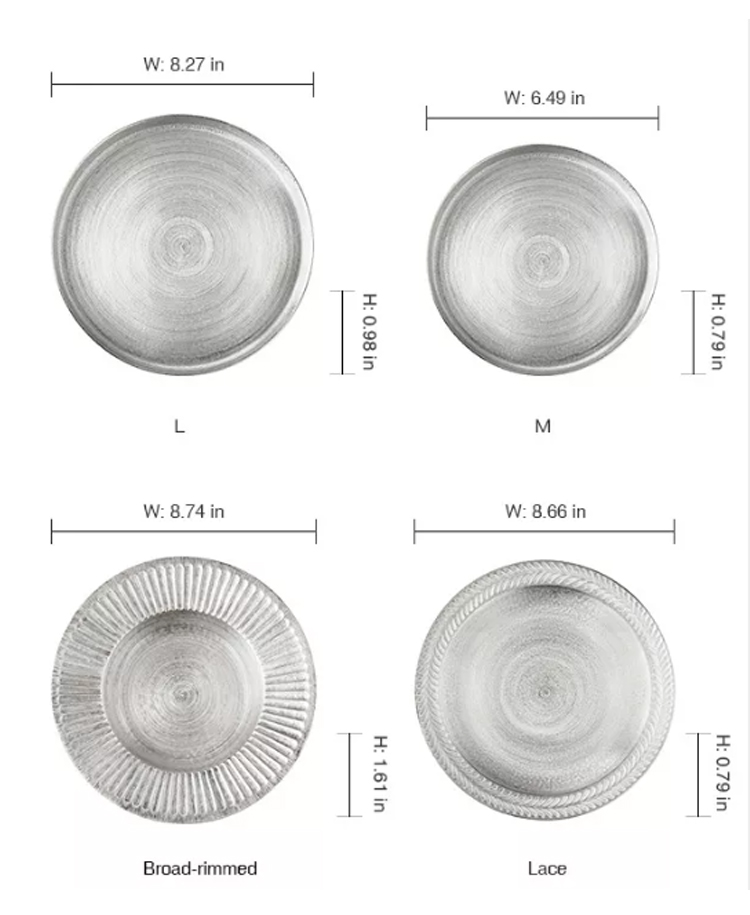 Highlights
Size:
These Ceramic charger plates are 5 inches in diameter. Add to your tablescape with Ceramic charger plates to bring a sophisticated chic look to your next event or dinner. Sold as a set of 4, buy in bulk for larger dinner parties, wedding receptions, birthday parties or any other event. Place with any dinner plate, pair with other shades of gold plates or go for a more dramatic look with black plates.
Materials:
Made from Ceramic, these high quality charger plates are a durable Ceramicset of 4. As a durable Ceramic set, it goes well with salad plates, soup bowls and main course dinner plates. With its gold ribbed design style, adding porcelain ceramic plates compliments a classic elegant tablescape to a more rustic wedding decor. Easy care for these charger plates with simple hand wash, not dishwasher friendly.
Wedding Decor:
Create memorable décor for your wedding reception with dramatic tablescape design. Whether planning a small or large event, a variety of different dinner plates would stand out paired with Ceramic charger plates. For the unique, classic elegant style, use the round plates under square plates. Wedding plates can take center stage as beautiful tabletop décor placed with our ribbed Ceramic charger plates.
Home Decor:
Bring some change to your typical table setting with Ceramic charger plates. Your kitchen décor can be easily changed by placing Ceramic charger plates. The sliver ribbed design within each Ceramic charger plate can be placed with square mirror plates as a bold contrast. Include other sliver items within the kitchen such as sliver utensils that would compliment the set of plates.
Multiple Uses:
There are more uses for charger plates than just for special events. Using Ceramic charger plates can make your food presentation simply breathtaking. Even for big events, using charger plates within your table setting helps eliminate food spills on table linen. The overall look of your tablescape can have a more sophisticated touch with minimal fuss. The perfect rental option for event planners to use for banquets, luncheons, weddings, restaurants and hotels.
ShapifyX
ZERO risk!
You can return it for a full refund if anything goes wrong, no questions asked. Your purchase is backed by our exclusive 30-day No-Chip warranty - ShapifyX will offer a free replacement or refund if anything goes wrong with the product.
More dinnerware set in ShapifyX. Contact us for the full range, or try our customized service.
Return Options
We sincerely hope that you to be delighted with your purchase. If there is an issue with your order, contact us via phone or email within three (3) days of receipt and we'll make it right.
Warranty
Every ShapifyX product is backed with a warranty. From design to manufacturing, delivery to service, ShapifyX is committed to quality.
Note
Errors in manual measurement.
You may handle it with care to prevent it from breaking as it is a fragile item.
We highly recommend cleaning it only with a soft cloth or sponge for long-term use.
The measurement is taken manually, sizes are for reference only.
It is normal if the colors are slightly different as it's a handmade ceramic product.
ShapifyX hopes you enjoy the shopping experience with us!