DESCRIPTION
Glass decorative footed bowl, clear glass, and 5" high bottom bowls come in borosilicate glass and are available in assorted colors. Specializing in high-end glassware and tableware. Our mission is to provide our customers with trendy hand-blown glass kitchenware and home decoration. ShapifyX beautiful and unique hand-crafted glass tableware is sure to make you fall in love with our brand.
Characteristics: Painting & Patter
Material: Ceramic
Package: Bowl x1
Color: Green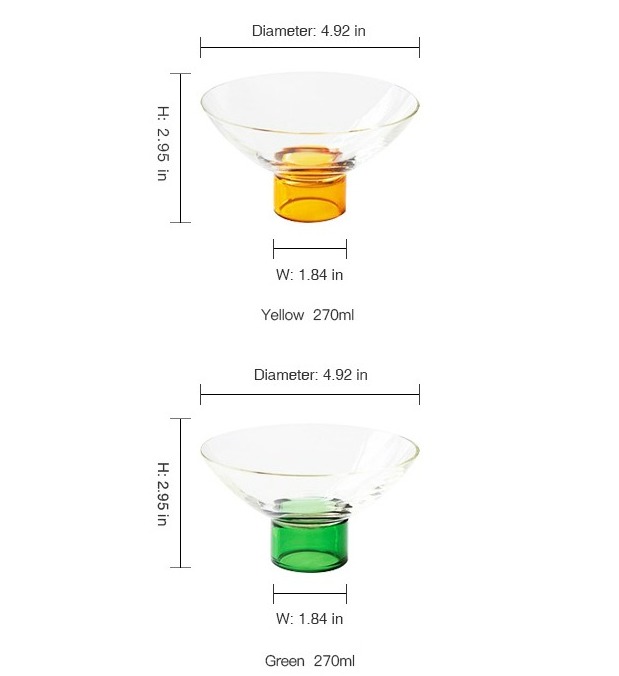 Designed for durability and versatile uses. Our Glass Decorative Bowl showcases a crystal clear glass thick-walled design. You can use this beautiful piece as a fruit bowl in your kitchen or dining table. This glass bowl will also make a great centerpiece arrangement for flowers or candy displays. Very commonly used as a Terrarium Bowl Planter. More dinnerware set in ShapifyX. Contact us for the full range, or try our customized service.
Note
Errors in manual measurement.
You may handle it with care to prevent it from breaking as it is a fragile item.
We highly recommend cleaning it only with a soft cloth or sponge for long-term use.
The measurement is taken manually, sizes are for reference only.
It is normal if the colors are slightly different as it's a handmade ceramic product.
ShapifyX hopes you enjoy the shopping experience with us!