Details
Handmade item

Length: 14 x 40 x 1.5cm

Material: Pearl, Coral, Fritillaria, Coral, Ancient Porcelain, Silver, Shell, Resin

Style: Individuality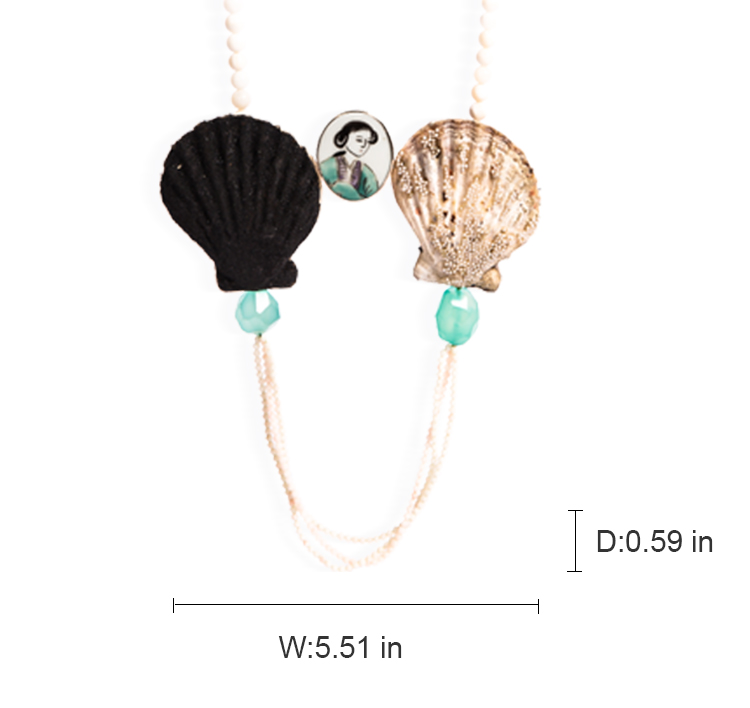 Absolutely outstanding! Capture the beauty of this breathtaking seashell pendant necklace. Crafted in Pearl, Coral, Fritillaria, Coral, Ancient Porcelain, Silver, Resin, and Stainless Steel. this piece boasts intricately detailed seashell pendants, suspends from the pearls chain.
Love this piece but want to make it more versatile, we here at ShapifyX along with our designer can convert this fantastic jewelry into a necklace or brooch. please contact us for more information!
Perfect Size
Perfect kitchen accessory for hosting guests. A whole new way to enjoy your drinks. Coffee, milk, and other drinks could also be enjoyed with our multifunctional little ceramic cups.
Simple & customized Packing
Well-designed boxes, protect cups inside in good condition during long time shipment, no missing any important time. It is a perfect gift for tea lovers, your friends, and your family on any occasion such as Housewarming, Wedding Party, Mother's Day, Father's Day, Christmas, and New Year's Day, or just without any special reason.
ShapifyX
ZERO risk!
You can return it for a full refund if anything goes wrong, no questions asked. Your purchase is backed by our exclusive 30-day No-Chip warranty - ShapifyX will offer a free replacement or refund if anything goes wrong with the product.
More dinnerware set in ShapifyX. Contact us for the full range, or try our customized service.
Return Options
We sincerely hope that you to be delighted with your purchase. If there is an issue with your order, contact us via phone or email within three (3) days of receipt and we'll make it right.
Warranty
Every ShapifyX product is backed with a warranty. From design to manufacturing, delivery to service, ShapifyX is committed to quality.
Eco-friendly: most of my supplies are nature, or sustainable contemporary, delivered in a recyclable recycled hand-stamped cardboard gift box and padded envelope.